Private Division, Obsidian Entertainment e Virtuos annunciano che The Outer Worlds: Spacer's Choice Edition è ora disponibile per Xbox Series X|S, PlayStation 5 e PC!
Questa versione del titolo introduce illuminazione e ambienti totalmente rivisti, una risoluzione a 4K dinamica, dettagli migliorati con personaggi più realistici, l'incremento del livello massimo a 99 e tanto altro ancora.
La Spacer's Choice Edition include il gioco base e tutti i contenuti DLC al prezzo consigliato di 59,99 €, ma con un prezzo speciale di lancio di 47,99 € fino al 21 marzo. Essa rappresenta la versione definitiva di questo apprezzato e pluripremiato gioco di ruolo.
I giocatori che possiedono già il gioco base The Outer Worlds e i relativi DLC, Assassinio su Eridano e Pericolo su Gorgone, per Xbox One, PlayStation 4 o PC possono eseguire l'aggiornamento a The Outer Worlds: Spacer's Choice Edition al prezzo ridotto di 9,99 €!
Potete rivedere il trailer rilasciato pochi giorni fa direttamente qui:
Informazioni sulla Spacer's Choice Edition
Leonard Boyarsky, co-direttore del gioco presso Obsidian Entertainment, ha dichiarato:
"Sia per i giocatori che si accostano per la prima volta a The Outer Worlds, sia per quelli che hanno già esplorato ogni angolo della colonia di Halcyon, la Spacer's Choice Edition è il modo più completo di sperimentare quest'amato GDR. E non lo dico solo perché il consiglio è responsabile anche della mia busta paga."
The Outer Worlds: Spacer's Choice Edition introduce diversi miglioramenti che permettono di offrire un'esperienza migliore e più coinvolgente in un gioco già accattivante.
Aggiornato per una nuova generazione, il gioco presenta diversi miglioramenti ambientali, tra cui una maggiore qualità dei materiali in molte aree. Vi sono inoltre miglioramenti all'IA, come la scelta del percorso più appropriato per i personaggi non giocanti, e nuove animazioni per i predoni. Oltre a questo, la versione offre effetti grafici potenziati che consentiranno ai giocatori di provare l'esperienza di gioco migliore di sempre.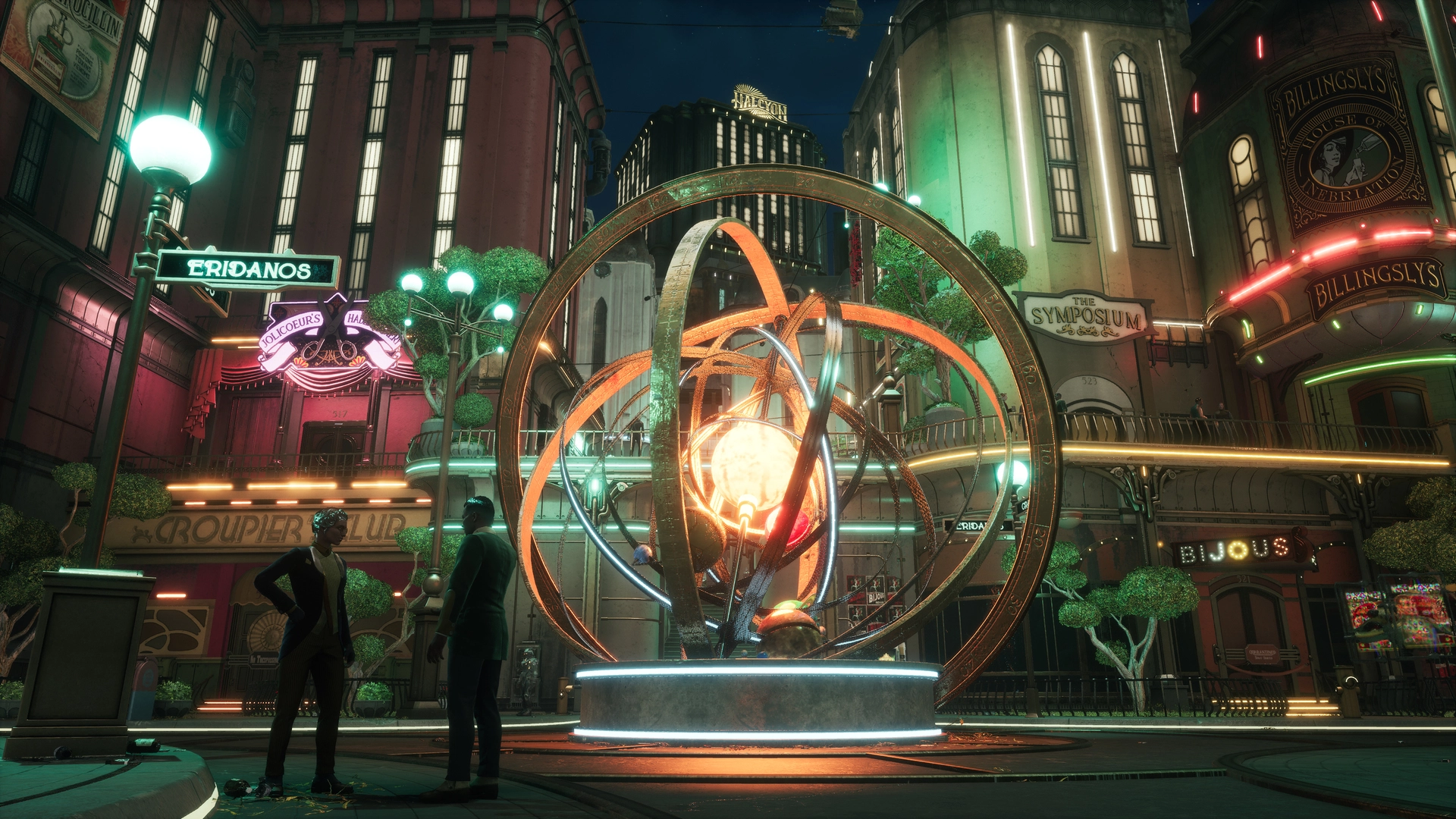 I giocatori potranno inoltre apprezzare la nuova sincronizzazione labiale, le animazioni facciali migliorate e la fedeltà degli shader dei capelli e della pelle, che contribuiranno a infondere più vita nei loro personaggi preferiti. Infine, il gioco non è solo più bello, ma gira anche meglio, grazie alle prestazioni ottimizzate e ai tempi di caricamento ridotti!
Tim Cain, co-direttore del gioco presso Obsidian Entertainment, ha commentato:
"The Outer Worlds: Spacer's Choice Edition ha grafica e prestazioni migliorate, aumenta il livello massimo e ha il 100% di packaging in meno!"
La Spacer's Choice Edition è una celebrazione del pluripremiato titolo del 2019, rimasterizzato con molte migliorie che ne fanno l'edizione definitiva. La narrazione guidata dal giocatore, che ha reso famosa Obsidian, ha un'importanza centrale: le scelte non influenzano solo la trama principale, ma anche le caratteristiche del protagonista, le storie dei compagni di viaggio e i diversi finali.
Per altre informazioni su The Outer Worlds: Spacer's Choice Edition vi rimandiamo al sito ufficiale QUA.